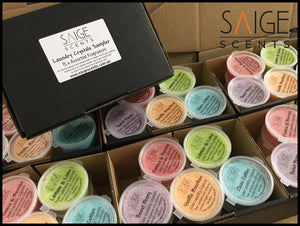 Luxe Laundry Crystals - 15 Fragrance Bulk Sampler Box
Regular price $20.00 $20.00 Sale
or make 4 interest-free payments of $5.00 AUD fortnightly with
More info
Want to try our awesome Laundry Crystals but not sure what scent you prefer? These single load tester pots are perfect to try them out in your own home without the commitment of a large tub.
Each Sampler contains our 15 x Single Shots of each of our different fragrances.
Black Raspberry Vanilla
Bourbon Vanilla
Sweet Peony
Wildberry Fizz
Freesia & Berries
Lemongrass & Lime
Clean Cotton.
Lilly & White Rose
Caramel Vanilla
Lime & Coconut
Energy

Egyptian Amber
White Musk
Peony Blush 
Cherry Blossom 
Our Magnesium crystals are NOT from China like most on the market but are sustainably extracted from geological underground deposits in Germany and produced to a very high-quality specification. The fine grade dissolves faster resulting in a cleaner machine and longer-lasting fragrance for your clothes.
Safe for use in front and top-loading washing machines to soften and fragrance your clothes naturally or pop a few crystals in your mop bucket or loo for a lingering burst of your favourite scent.
Ingredients - Magnesium Sulphate Hepta Fragrance Crystals, Skin Safe Fragrance & Dye.
These crystals do not replace your normal washing detergent. Please discontinue use if irritation occurs.