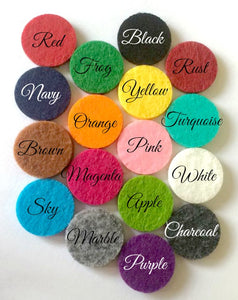 Replacement Scent Pads for Car Lockets
Regular price $0.50 Sale
or make 4 interest-free payments of $0.13 AUD fortnightly with
More info
When you purchase one of our Car Locket Fragrance Systems each Locket comes with 4 scent pads and a 20ml bottle of Fragrance Oil. When you want to change the fragrance in your Locket we recommend that you use a new scent pad. As our Lockets are Stainless Steel they should last you a VERY long time so you may need more than the 4 pads that come with your Locket.
Spare pads are now available in the pictured colours. 
* Please note that as we are supplied these pads randomly we may not always have your desired colour at the time of purchase. Every care will be taken to provide you with the colours you choose but substitutions may occur.