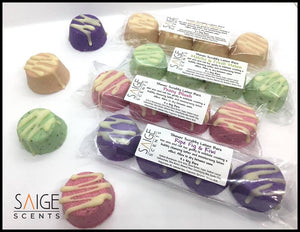 NEW! Shower Scrubby Lotion Bar - 4 pack
Regular price $12.50 Sale
or make 4 interest-free payments of $3.13 AUD fortnightly with
More info
3-In-1 Shower Scrubby Lotion Bars
Cleanse - Exfoliate - Moisturise!
For a luscious shower treat that combines gentle cleansing, mounds of creamy lather and soft deliciously scented skin look no further!
You will become addicted to the abundant moisturising lather these little gems provide. They combine the fizzy fun of a bath bomb (without needing a bath!) the luxury of a bath oil, the creamy lather of a body wash and the silky smoothness of a gentle body scrub.
Each pack contains 4 of these little goodie bars and each bar will last multiple shower uses. Simply wet your skin and gently rub over your skin to exfoliate, cleanse and moisturise, allowing the bar to dry out between uses. 
4 x 40g Bars
Ingredients: Sodium Bicarbonate, Citric Acid, Cocoa Butter, Sugar, Sodium Laureth Sulfoacetate, Shea Butter, Almond Flour, Emulsifying Wax, Kaolin Clay, Polysorbate 80, Colloidal Oats, Fragrance, Optiphen, Stearic Acid, Mica.