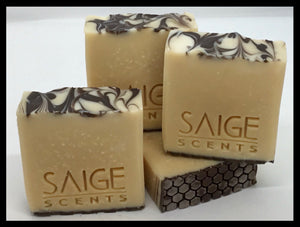 Goatsmilk & Manuka Honey Soap
Regular price $7.95 Sale
or make 4 interest-free payments of $1.99 AUD fortnightly with
More info
'Goatsmilk & Manuka Honey'
Is your skin super sensitive to fragrances? Dyes and additives irritate you? Then this bar is made just for you! 
With the natural scent and deep golden glow of healing Manuka honey this soap blends Goat's Milk with luxurious Tussah Silk and purifying white clay. Lather up and simply pat dry without rinsing to enjoy the soothing essential vitamins and natural nutrients.
Natural face & body bar, handcrafted in Coffs Harbour to love your skin and delight your senses! 
Ingredients: Coconut Oil, Olive Oil, Sustainable Palm Oil, Sweet Almond Oil, Castor Oil, Goats Milk, Manuka Honey, Kaolin Clay, Tussah Silk.
Min Wt 130g
Unlike commercial soaps our Artisan Soaps do not contain any artificial preservatives so to maximise the life of your soap please allow to completely dry out between uses using a soap dish or rack.
As these are a handmade product no two pieces will be exactly the same and some irregularities are to be expected.